About SustainaPrint – An Eco Friendly UK Printing Company
The environment is important to us. We acknowledge that the printing industry can contribute negatively and that's why we work hard to ensure a very low carbon footprint – with ALL of our projects.
We use a combination of the best materials but also those with a smaller impact to nature. We stock a range of eco-friendly substrates and use materials from the Evergreen range.
The Evergreen range is free from PVC, Phalates, Phosphate, Formaldehyde or Glycol-ether. Traditional PVC also uses up to 50% more raw materials. Evergreen is lighter than PVC and requires less fuel for deliveries – and these are just a few of the benefits of using greener materials.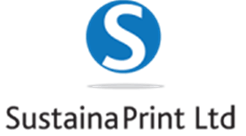 SustainaPrint is based in Dunsfold, Surrey. Our facility is also as energy efficient as possible.
But we are not just committed to a better environment, we are also committed to serving our customers to the best of our abilities. We pride ourselves on delivering a first rate service, supplying premium products at really competitive rates.
Want to work with us? Call us today on 01483 200918.