Trailer and Truck Vehicle Wraps
The ultimate in moving adverts, corporate branding through trailer and truck vehicle wraps has your vehicles do your advertising for you.
Trailer and Truck Vehicle Wraps
Delivering optimised recognition of your brand, trailer and truck vehicle wraps provide you with an ideal, extremely effective form of virtually free advertising – 365 days per year, 24 hours per day and wherever your vehicles go. Transforming your vehicles into moving billboards, trailer and truck vehicle wraps can take your message and corporate identity to the public by displaying anything from basic names, logos and/or contact details to full colour logos, brochure covers and/or product shots.
Sustaina Print Trailer and Truck Vehicle Wraps
We design, print and fit our trailer and truck wraps in-house and can print your design digitally onto quality cast (high performance) material before transforming your vehicles' appearance with the wraps.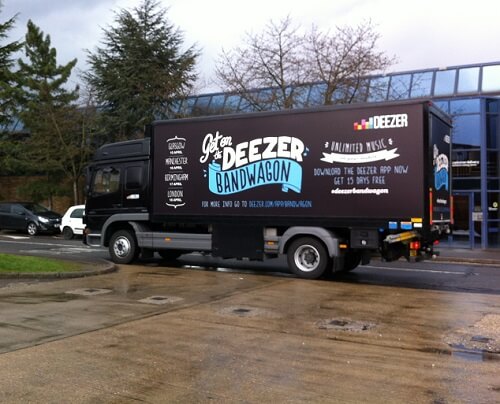 Overlaying a CAD drawing of your truck/trailer with the finished design to give you a better idea of what the completed trailer and truck vehicle wraps will look like, we obtain your approval before printing it onto panels. Finally, our 3m/Avery Denison trained, experienced fitters piece these panels together on your trucks/trailers to get the effect desired by you.
In addition to trailer and truck vehicle wraps, we also produce and install wraps for fleets of vehicles including, for example, buses, taxis or company cars; vans, sports vehicles and more. Vehicle wraps can be designed to match your preferences, whatever they happen to be, from subtle, comparatively plain designs to bold, eye-catching ones and anywhere in-between.
Whether you intend to transform a fleet of vehicles with trailer and truck wraps featuring any combination of full colour logos; text, photos, and/or graphics or want just one wrap to promote your business with your logo and contact details only, we can transform your vehicle/s into the perfect mobile advert/s to convey your company message and carry your brand to consumers everywhere.
Get in Touch
To discuss your needs and/or get helpful advice on designing your trailer and truck wraps, please get in touch with us via our online contact form; by e-mail: info@sustainaprint.co.uk or by calling +44 1483 200918 now.